Fpsc Configuration Utility
Posted by Pharago on 2018/03/18 21:55 Tags: fpsc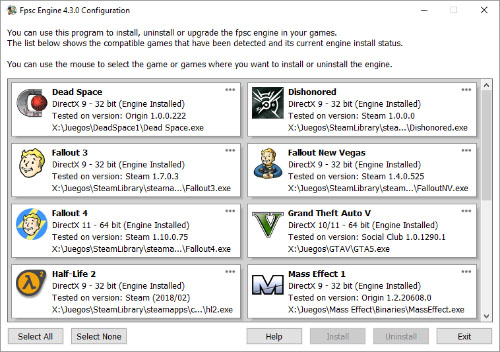 The new configuration utility
The Fpsc Engine Configuration Utility is ready, and it will be included with the new installation package, along with all the libraries that are needed to make the engine work with most directx games.

The program is meant to facilitate the installation of the engine on all supported games, it contains the logic to recognize and remove old and new versions and install the latest in its place using the correct proxy library for each game.

It is able to detect the location of the games and extract an image of its main icon directly from the executable file.

Inside the main window a box will appear for every detected game that is recognized by the engine, and it will show information about the directx version it uses, the game's bitness, and the actual fpsc engine's installation status.

Every box includes information about the version of the game in which the engine was tested on, along with its current location in the computer's file system.

You can use the mouse to select boxes individually or click the 'Select All' button, the buttons in the lower part, 'Install' and 'Uninstall', operate on those selected boxes.


The game boxes also have an icon with three dots on their top right corner, clicking on that icon will open that particular box options menu to manage the installation of the engine on that game.

The option on that menu called 'More info' links to the web post that describes the level of support for that game.

The first version of this utility was small, it had just a list of detected games and a button to blindly send the engine's files to the game.

Over the years, it became clear that something smarter was needed to avoid issues with wrong installations, and so I built this new version.

If you have any issue with the engine and it is because it is not installed correctly, using this utility is the safest, fastest way of solving it.